Today We Are Write About SBIF Asha Scholarship Apply Online : Gujarat State Bank Of India Scholarships are given by various government departments and various organizations to help students in their studies . Under one such scholarship scheme from SBI Foundation, scholarships are given to the students of class 6 to 12. Know the options Complete details of SBIF Asha Scholarship scheme.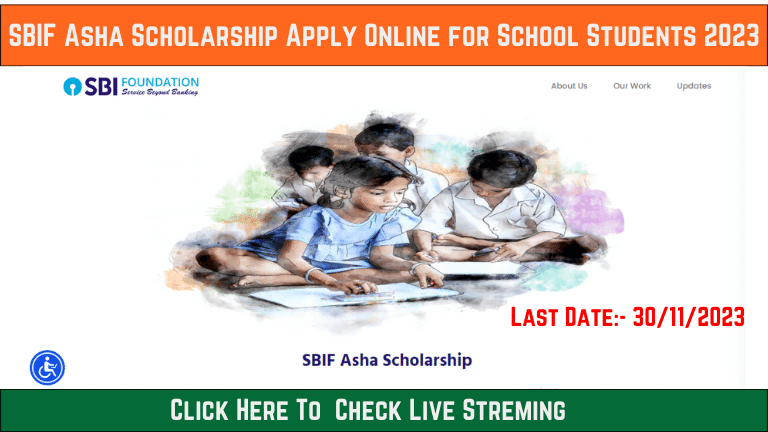 SBIF Asha Scholarship Apply Online for School Students 2023.
| | |
| --- | --- |
| Post Name | SBIF Asha Scholarship Apply Online |
| Category | Scholership |
| Portal | www.freshgujarat.com |
| Post Date | 18/11/2023 |
Eligibility for getting the scholarship
Students studying in class 6 to 12 can apply for this scholarship.
Applicants must have secured at least 75% marks in the previous academic year.
Applicant's family annual income from all sources is Rs. should not exceed 3,00,000 .
Students of PAN India can also apply for this scheme.
Students covered by the scholarship through State Bank Foundation's Asha Scholarship will get a scholarship of Rs 10,000 per annum.
The last date for applying for the SBI Asha scholarship has been fixed 30th November (30.11.2023). Eligible students have to complete the application before the said date through their own given process.
Copy of previous academic year mark sheet
Copy of student's Aadhaar card
Proof of continuing studies (fee receipt/admit letter/institute identity card/bonafide certificate)
Bank account details of the applicant (or parents).
Proof of Income (Form 16A/Certificate of Income from Government Official/Salary Slip etc.)
Photograph of the applicant
How to apply for a scholarship?
First of all open the official website www.sbifoundation.in to apply online.
Click on SBIF Asha Scholarship in it.
Then click the 'Apply Now' button below.
Login to Buddy4Study using registered ID to go to 'Online Application Form Page'.
If you are not registered – Register on Buddy4Study with your email/mobile number/gmail account.
You will now be redirected to the 'SBIF Asha Scholarship Program for School Students 2023' application form page.
Click on the 'Start Application' button to start the application process.
Fill your required details in the online application form.
Then upload the required documents as requested.
Accept the 'Terms and Conditions' and click on 'Preview'.
If all the details filled by the applicant appear correctly on the preview screen, click on the 'Submit' button to complete the application process.
Contact for SBI Foundation Scholarship
For any queries, please contact: 011-430-92248 (Ext: 303) (Monday to Friday – 10:00 AM to 6:00 PM)
or email: [email protected]
FAQs on SBIF Asha Scholarship Apply Online
How can I check the status of my SBI Asha Scholarship application?
You can check your application status Online on the official website "https://www.sbifoundation.in/focus-area-detail/SBIF-Asha-Scholarship" linked with Buddy4Study.
What is the official website for SBI Foundation Asha Scholarship 2023?
The official website for SBI Asha Scholarship 2023 is https://www.sbifoundation.in/ and Officil Application Portal is "https://www.buddy4study.com/page/sbi-asha-scholarship-program".
How much is the SBI Foundation Scholarship amount?
The scholarship amount is Rs 10,000 only One Time for Selected School Students.